Screen Printing & Embroidery
Screen Printing
Screen printed apparel is an economical addition to any marketing campaign, event or business. Apparel is a basic, functional promotional item for any group. MSSI has our own presses for optimum quality control. Our screen printing department in Boulder is comprised of two automatic presses that both can handle up to 11 color prints, two manual presses for small run prints as well as custom placement art, one hat press, one can holder press and a digital printer. As one of the Front Range's premier screen printers, we can accommodate orders from one piece to thousands of pieces.
Screen printing uses a stencil, or screen, a squeegee is passed over the screen pushing ink onto the printed surface. Each color is applied using a different screen, one at a time to combine the colors into the finished art. Pricing is based on the number of colors within your art. Screen printing is the best option for designs that require a high level of vibrancy or if the product is a dark color.
Inks
We have a variety of inks to choose from that our expert print staff mixes to match your color requirements using the Pantone Matching System (PMS). We use traditional plastisol spot color inks, process inks or you may choose from one of our special effect inks: Discharge, Puff, Metallic, Glitter, Glow-in-the-dark ink, Neon, Gel. Let us know if you are interested in learning more about these inks.
We have the capabilities to print up to 11 colors, this works well for simulated process jobs. Since we offer process inks we can also complete 4 color process screen print jobs with ease, which also offers a softer hand than traditional plastisol inks.

Direct to Garment
Direct to garment digital printing uses a printer not unlike the printer you may have in your home or office. It uses CMYK ink cartridges that are water based, are environmentally friendly, and have a super fine hand.  This process is ideal for low quantities, full color, photographic or highly detailed art and can only be printed on light colored garments.

Embroidery
Embroidering apparel is a great way to add professionalism and class.  It's great on headwear, staff shirts and gifts. For a quote just e-mail us your art and we will give you an estimate for the set up charge and approximate stitch count for your design. Prices are based on the number of stitches, the more fill there is in your design the higher the price. We are able to do special effects embroidery upon request, such as appliqué or puff embroidery.

Stock Art
Our art department has a wide selection of designs, styles and ideas for any interest or attraction in the area. We use our expertise to design diverse collections that consist of art from trendy to classic or youthful to mature, all of which are eye catching!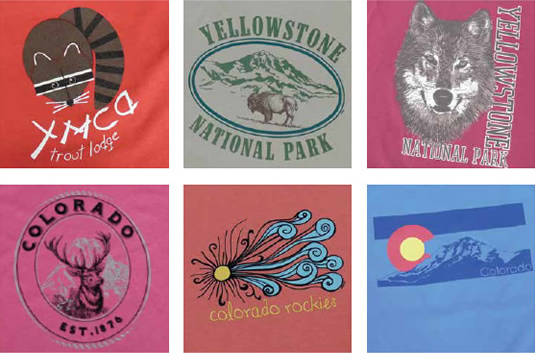 How to Order
Contact us to decide on your item, quantity, and sizes
Send us your art files or work with our design team
Place order for production
We will contact you for pick up or shipment